Description
Internal swivel tee tube clamp fitting, reference 147, with double galvanised protection for tubular structures. Suitable for joining 2 tubes.
All FitClamp® tube clamp fittings are assembled with a simple Allen key. You don't need to weld or bolt together the different parts! Recommended tightening torque: 40Nm. Put together your tubular structure with ease..
Choose the size of the internal swivel tee clamp, reference 147, according to the diameter of your tubes.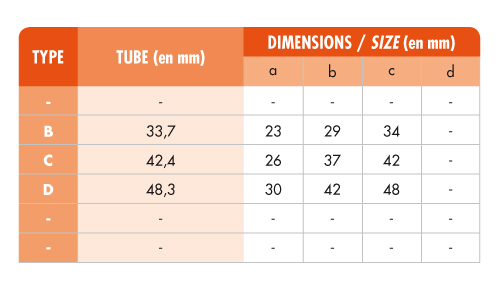 More informations
Data sheet
Tube diameter : Ø B 34
Tube diameter : Ø C 42
Tube diameter : Ø D 48
Suitable for : 2 tubes
Connector angles : Angle 90°
From 20 product(s)

- 5.00 % discount
From 50 product(s)

- 10.00 % discount
From 100 product(s)

- 15.00 % discount
Are you a professional in the field of signage?
Benefit from the reseller rate thanks to a connection reserved for professionals.